Clinical trials are an essential cornerstone of medical research, enabling the development of new treatments and therapies that can revolutionize healthcare. However, Clinical Research Organizations (CROs), sponsors, and independent trial sites often face significant challenges in recruiting and retaining participants, leading to delays and increased costs.

One crucial factor that can address these bottlenecks is the optimization of participant payment processes. By providing timely and seamless compensation, researchers can incentivize participants to enroll and ensure their commitment throughout the trial.
The Importance of Participant Recruitment and Retention

Participant recruitment and retention are notorious hurdles in the world of clinical trials. Lengthy recruitment processes and high dropout rates can lead to delayed trial completion, increased expenses, and compromised data accuracy.

The reasons for these challenges are multifaceted, ranging from stringent eligibility criteria to the burden of participation. One effective strategy to address these issues lies in optimizing the payment experience for participants.

Seamless Compensation as an Incentive
One of the primary reasons individuals consider participating in clinical trials is the compensation offered for their time, effort, and potential health risks. In one survey, 39% of participants reported compensation as their primary motive for participating in clinical trials.

This percentage can go up to 90% for healthy volunteers. Optimizing payment processes is an effective way to incentivize participants to enroll and actively engage in the trial. The amount of payment for participation should not be overlooked, as this recent headline points out: Paying research participants — a lot — may be a key to increasing diversity in studies.
Timely, reliable, and hassle-free compensation fosters a sense of value and appreciation, boosting participants' motivation to actively engage in the trial, follow protocols, attend appointments, and provide accurate data.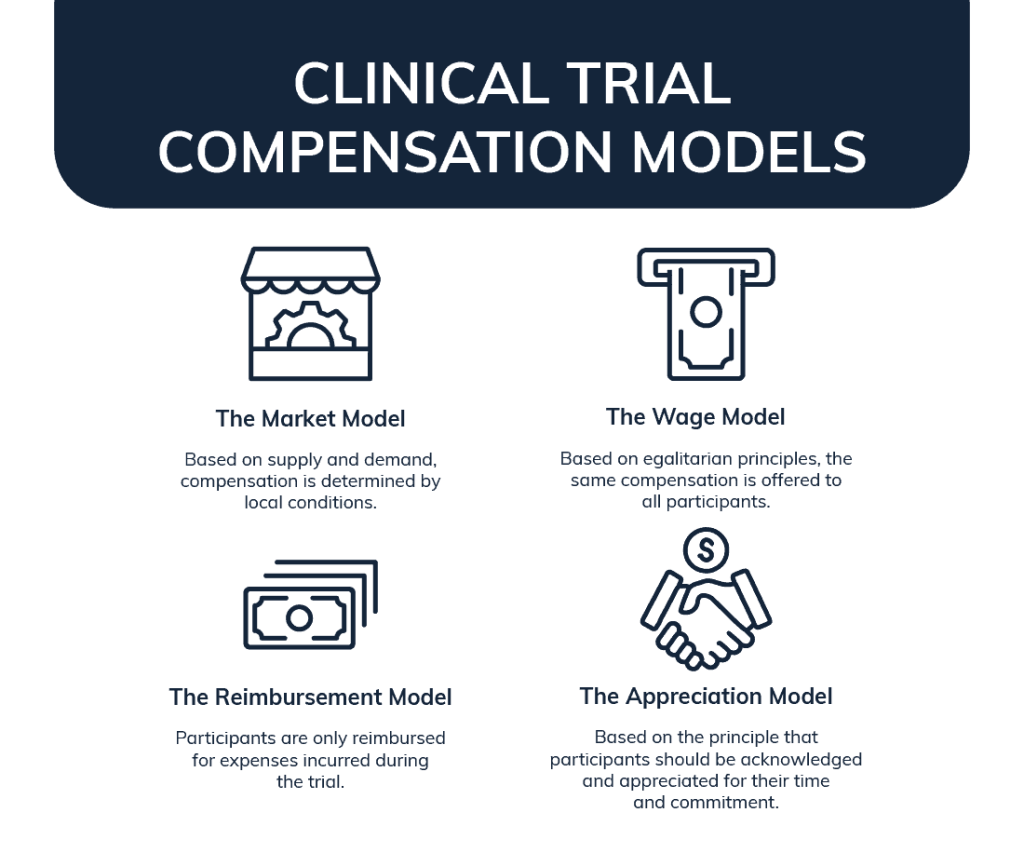 Source: TrialFacts
An Easy Way to Streamline Payment Processes
Efficient payment solutions, such as B4BPayments' prepaid cards, are pivotal in streamlining payment processes for clinical trial participants. Prepaid cards offer a convenient and secure way to deliver compensation promptly, eliminating manual processes and the delays associated with traditional payment methods like checks or bank transfers.

The global prepaid card market, projected to reach $4.1 trillion in transaction value by 2026, according to Juniper Research, attests to the increasing demand for this convenient form of payment. This growth is primarily driven by emerging markets, where the reach of traditional banking systems may not be as extensive.
We have made it easy to overcome the burdens of administrative tasks, empowering sites to have more time to focus on research. B4B Payments' all-in-one, intuitive management platform gives administrators full control and the power to instantly issue or schedule and automate the issuance of reloadable Visa prepaid physical and virtual cards globally with the agreed-upon compensation amount, for single or multiple trials and set milestones.

Administrators gain a new level of transparency in tracking each account and payment made, B4B Payments is a technology-first company, and we have designed an easy-to-use platform that flawlessly integrates into existing accounting and program management software.
Moreover, prepaid cards reduce the necessity for trial participants to have a bank account, use currency exchanges, or wait to receive checks in the mail. Trial participants can receive funds immediately for incentives, completion of milestones, and reimbursements. With increased consumer adoption of digital payments, cardholders can use a friendly mobile application to easily add their cards to highly used Apple or Google wallets for seamless mobile payments and manage their cards.
By adopting a simple, digital prepaid approach to participant compensation, operators can foster inclusion and diversity and ensure that participants receive their compensation without unnecessary friction, which can significantly impact their overall trial experience.

Impact on Retention Rates
The goal of optimizing payment processes is to improve participant retention rates. When participants have a positive payment experience and feel well compensated for their time and efforts, they are more likely to stay enrolled in the trial until completion. Studies have shown that participants who are paid promptly and without inconvenience are 2.5 times more likely to complete the required clinical trial steps than those who face payment-related challenges.

Higher retention rates translate to more accurate and comprehensive data collection, which is vital for drawing reliable conclusions from the trial. Reliable data is essential for gaining regulatory approval, advancing medical knowledge, and bringing new treatments to market. By prioritizing payment optimization, researchers can significantly contribute to their clinical trials' success and healthcare's overall advancement.

Optimizing payment processes is a critical yet often overlooked aspect of ensuring the success of clinical trials. As the healthcare industry continues to evolve, prioritizing payment optimization can be a game-changer in achieving successful clinical trials that drive meaningful progress. Contact B4B Payments to learn how we can help optimize the trial experience.